– December 12th, Croatian National Theater Split
Concert of the Virtuosos of Split
Soloist: Mai Suzuki, violin
Conductor: Wladimir Kossjanenko
Program:
Luka Sorkočević: Simphony in D Major for String orchestra
Antonio Vivaldi: Four Seasons for Violin, String orchestra and Chembalo
Bela Bartok: Romanian dances for String orchestra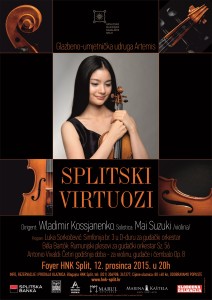 – July 17th, 9 p.m., Cultural Center Ploče
Concert of the Virtuosos of Split
Soloists:
Dragan Radosavljević, violin
Mihovil Karuza, cello
Conductor: Wladimir Kossjanenko
Program:
Franz von Suppé: Ouverture from the "Light Cavalry"
Franz Schubert: Rondo in A Major for Violin and Strings
Joseph Haydn: Concerto in C Major for Cello and Strings
Boris Papandopulo: Suite "Pintarichiana"
– May 20, 8 p.m., Croatian National Theater Šibenik
Concert of the Virtuosos of Split
Soloist: Mihovil Karuza, Cello
Conductor and soloist: Wladimir Kossjanenko, Viola
Program:
J.Haydn: Concerto for Violoncello and orchestra in C Major
M.Bruch: Romanze for Viola and strings op.85
(arranged by Wl.Kossjanenko)
F.von Suppé: Ouverture from the Opera "Light Cavalry"
(arranged by Wl.Kossjanenko)
G.Holst: Suite for String orchestra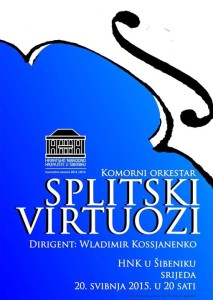 330th anniversary of Johann Sebastian Bach in Split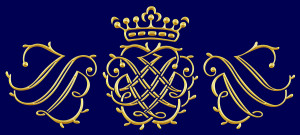 Ladies and Gentlemen,
This year On Saturday, Mach 21st we celebrate the 330 th anniversary of the birth of
Johann Sebastian Bach.
The 4th Days of J.S.Bach in Split organized by Musical Association ARTEMIS in cooperation with the Academy of Arts, the Music School Josip Hatze, Croatian National Theater in Split and parish Sv.Duje with the support of the City of Split, Split-Dalmatia County and the Marina Kaštela.
This time we prepared a varied program with five events. During the festival will be held one lecture and four concerts:
On Thursday, March 19th at 4 p.m. in the hall of the Academy of Arts at the University will be held a lecture by Ph.D. Vito Balic on specific aspects of polyphony and fuge and at 5 p.m. the concert of the professors of Department of Music of the Academy of Arts:
Ana Domancic, Jadranka Garin, Vesna Podrug, Mladen Grgic and guest James Juric.

First time in the Days of J.S. Bach participating students of piano from the Music school Josip Hatze and the Academy of Arts in Split in a joint concert on Friday 20th March at 7 p.m. in the Hall of the Music School Josip Hatze.
On Saturday, March 21st at 5.30 p.m. in the Croatian National Theater in Split the chamber orchestra Virtuosos of Split conducted by Wladimir Kossjanenko will perform J.S. Bach`s Suite in B minor for flute, strings and basso continuo BWV1067 and two rare works:
Concerto for Piano and Strings in D major KV107 by Mozart written on topics of the piano sonata by Johann Christian Bach and Concerto for two pianos and strings in C major BWV 1061 by J.S. Bach.
Soloists are the pianists Olga Cinkoburova, Grigory Gruzman (Weimar), assistant of Daniel Barenboim Alexander Vitlin (Berlin) and Slovenian flutist Mark Zupan also from Berlin.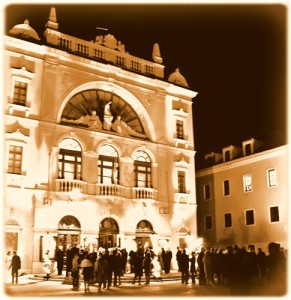 On Sunday, March 22nd at 7.30 p.m. at the Cathedral of St. Duje will be played the Goldberg Variations by J.S. Bach arranged for string trio. This monumental piece will be performed by violinist Dragan Radosavljevic from Berlin, violist Wladimir Kossjanenko and cellist Michael Karuza.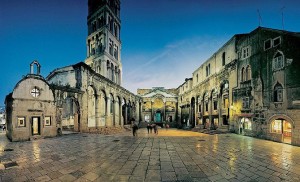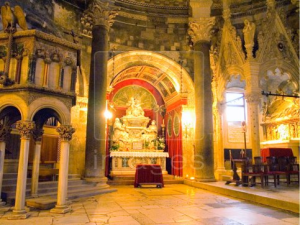 "Nicht Bach, Meer soll er heissen!" Ludwig van Beethoven
We wish you a nice start to the spring with streams of Bach's music!
With best Regards
Wladimir Kossjanenko
Conductor of Virtuosos of Split
Musical association ARTEMIS
www.artemis.hr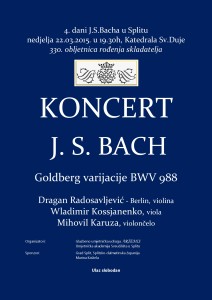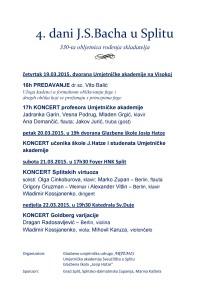 REVIEW: SLOBODNA DALMACIJA March 23rd, 2015