Festival "Bach 333" – 7th Bach Days in Split, March 21 – 25, 2018
Project description:
The project "Bach Days in Split" is the first and only comprehensive event of its kind in Croatia, dedicated to the composer's work. The project was launched in 2012 on the initiative of the professors of the Music Department of the Art Academy in Split – Vesna Podrug and Vladimir Kossjanenko and since then organized every year on the March 21-st about the composer's birthday. In the coming years, the number of participants increased steadily, accompanied by the great public interest.
In 2015, the 330th anniversary of J.S. Bach was celebrated. During the 4th Bach Days in Split from March 19 to 22, 2015, four concerts and one lecture took place. Since this year the festival got an international character. Continuing the Bach Days in Split creates a new framework for concert activity for young and renowned musicians from Split and Croatia, promotes cooperation with prominent musicians from abroad and contributes to the concert life of the city of Split and tourism during the Easter season.
Four concerts are planned for the 7th Bach Festival, including two consecutive integral performances of Bach's cello and solo violin cycles for the first time in Croatia. On Wednesday, March 21st, at 8 pm, in the Cathedral of St. Domnius, a distinguished Croatian violoncellist Mihovil Karuza performs all six suites for the cello solo. On Friday, 23rd and Saturday and 24th of March at 7 pm in the Cathedral of St. Domnius, violinist and concertmaster of the Zagreb Philharmonic Orchestra Orest Shourgot performs all six sonatas and partitas for violin solo. On Sunday the 25th of March, at 11a.m., a concert will take place in the Museum of the City of Split, where the students of the Music School and the students of the Academy of Fine Arts will perform together.
This year's Bach 333 Festival – the 7th Days of Bach in Split is organized by the Art Academy and the Artemis Music and Art Society in cooperation with the Parish of St. Domnius and where supported by the Cultural Department of the City of Split, Hotel Marul Split, Split Music School Josip Hatze and Museum of the City of Split.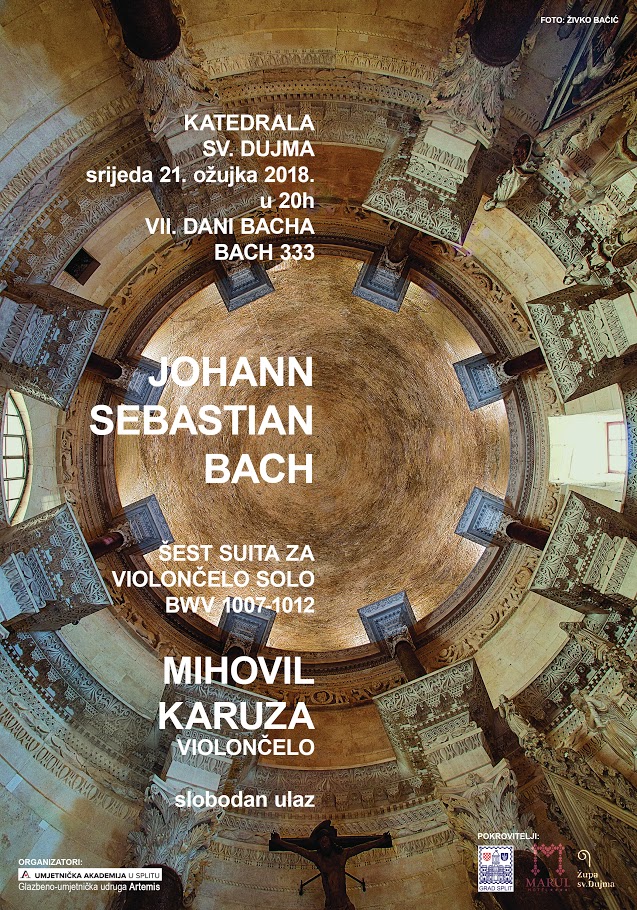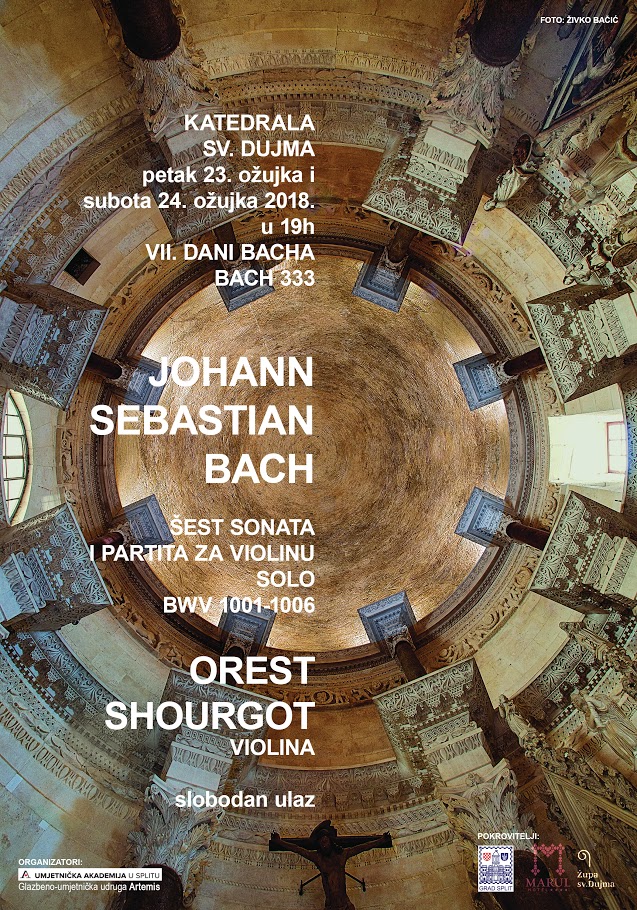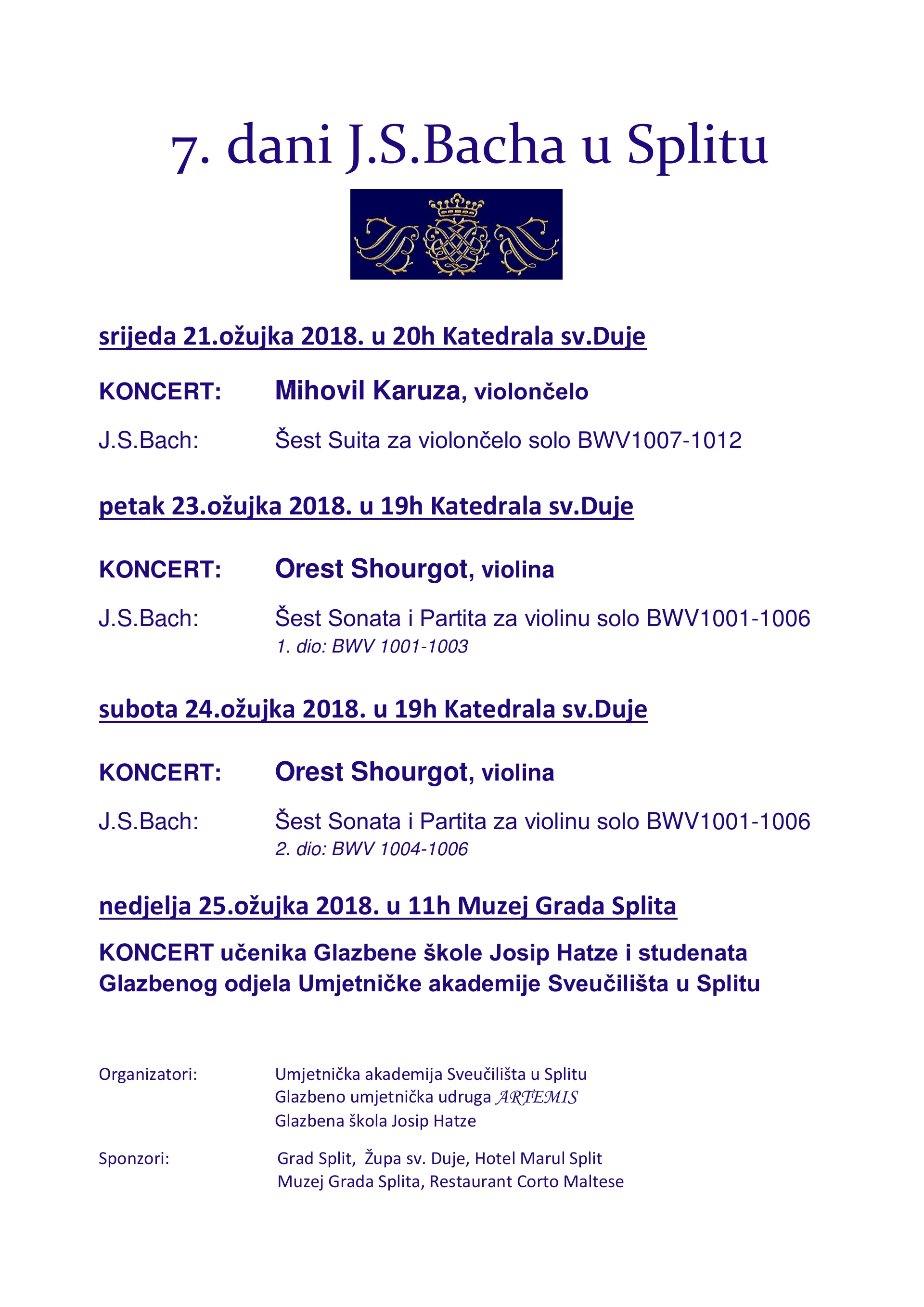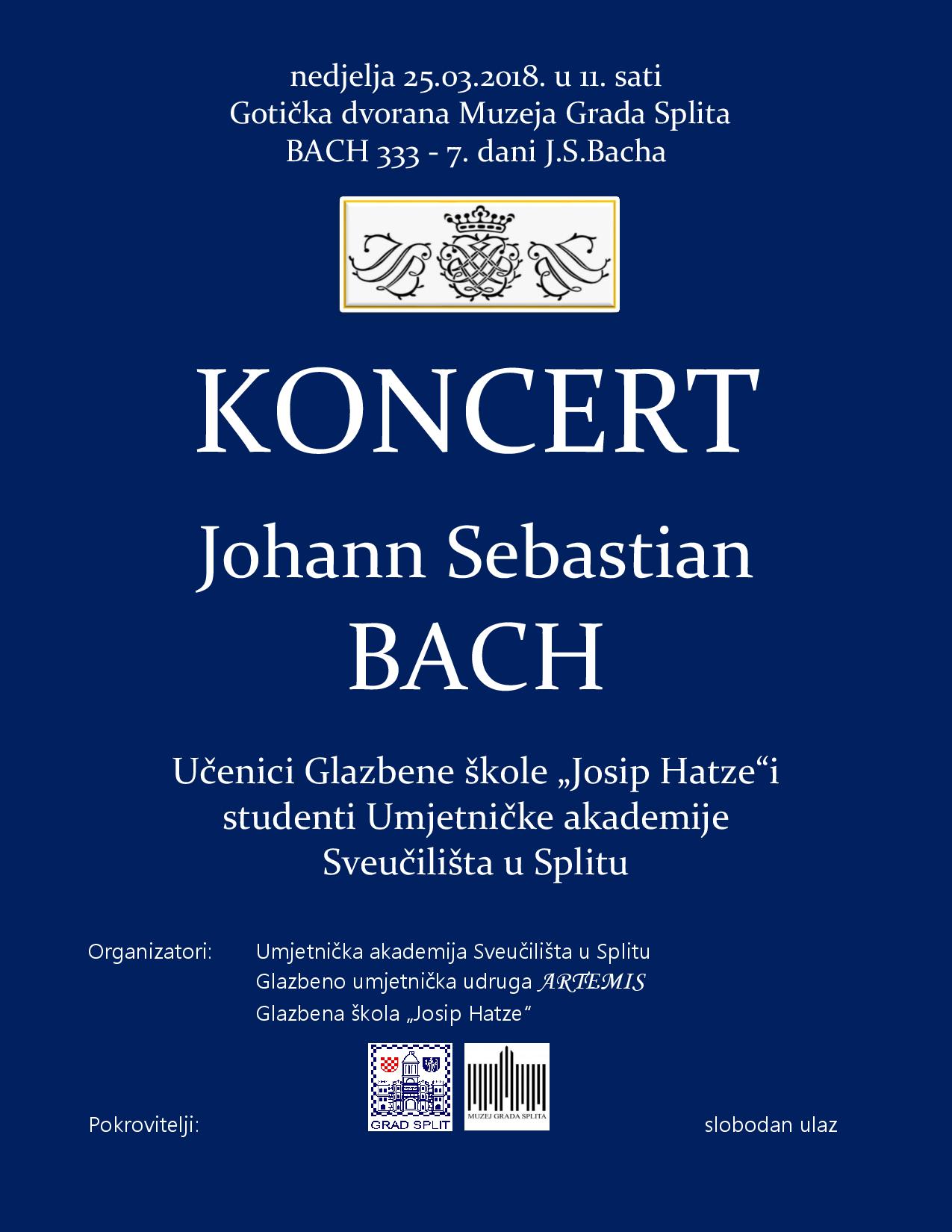 BACH_333_Muzej_Program_naslovnica